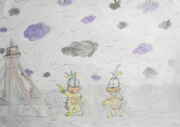 Cockersands is an abandoned neighborhood within KoopaTown; known for it's thick fog. 
Description
Edit
Cockersands was abandoned in 1954 after Luke the Spook made the area his hideout after his first escape. Today; Cockersands remains abandoned; and his home to weird ghostly structures; such as lighthouses; power stations; windmills; a cement works; bridges; and various other buildings. 
Cockersands in photos
Edit
These photos take you into Cockersands to see what the place is like. 
Ad blocker interference detected!
Wikia is a free-to-use site that makes money from advertising. We have a modified experience for viewers using ad blockers

Wikia is not accessible if you've made further modifications. Remove the custom ad blocker rule(s) and the page will load as expected.